Small businesses are utilising social media as a marketing channel more than ever, as it is one of the most cost-effective ways to share content with existing clients and introduce your business to new or potential clients.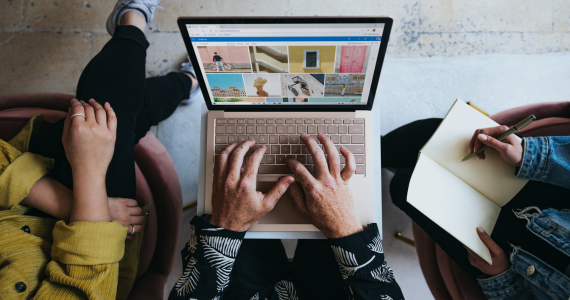 Using social media platforms like Facebook and Instagram can be a simple way to promote your brand and showcase your services. This channel allows you to share informative and engaging content with your clients in a timely manner, as it doesn't take long to create and publish a post.
While social media marketing is not new, it's important to understand how to use this platform effectively to maximise your marketing efforts. Like you would normally plan other areas of client communications – newsletters for example – social media content shouldn't be any different.
How to use this channel effectively
Firstly, you must define your goals and decide what it is you would like to achieve when deciding to use social media as a communication tool. The most common goal for using this marketing channel is to create brand awareness and increase client engagement.
Defining your goals early on will allow you understand how much time and energy should be dedicated to this marketing channel.
Once your goals are in place, you can create a marketing strategy that aligns with your goals. Remember, this strategy should be incorporated into your broader communication strategy.
Creating a strategy
Consider what type of content will resonate most with your clients and how often you would like to post content. As a rule, you can't post once a month and expect your clients to remain engaged.
Posting content once or twice a week is generally the rule of thumb for this channel.
It's vital that you monitor your social pages when you post new content in case there are any comments on your posts. This should be seen as an 'interactive' marketing channel. 
What should you post?
Having the right mix of content is a sure-fire way to ensure this channel is successful. Be clear about the content and what you post as this channel can drive traffic to your website, so both channels need to be complementing each other.
A few post ideas to consider are:
Team announcements
Inspirational or motivational quotes
Statistics
Industry news
Financial strategies
Creating hashtags is also something to bear in mind as this will allow you to grow your audience even further without spending a cent!
What are some of the challenges?
Majority of the time, it is 'time' that can be the biggest challenge. Not knowing where to start can be the biggest hurdle when it comes to using this channel but most commonly, it is 'time' itself that is the biggest challenge. Having the resources to manage this on an ongoing basis can also impact how this channel is used.   
Outsourcing content creation or whole social media management is an option and may be more valuable than you might think, as it can free up your time to spend on more important areas within the business – like your clients.
Contact us today if you'd like to find out more about how our social media content can help you engage your followers and save you time and money.